Pipe Freezing, Freeze Plugging & Ice Plug Services
Pipe freeze plugging is a simple, cost-effective method to perform pipeline maintenance or pipe modifications without draining. Using liquid nitrogen, IFT can isolate the problem area in the line by freezing the product inside the pipeline to form one or more solid freeze plugs. This allows for very little drain-down or refill, and in many cases, no system downtime. Once the work is complete, the pipeline freezes are thawed and the pipeline is back in operation. Standard line freezes range in size from 1/2" to 36" OD and can be performed on most fluids including petrochemicals.
Our repeat customers include power plants, hospitals, industrial companies, mechanical contractors, hotels, and manufacturing facilities. With the use of liquid nitrogen, pipe freezing is accomplished by establishing a secure and solid ice freeze plug to isolate pressures in excess of 3000 psi.
In the picture below: The pipeline apparently had a pinhole leak somewhere in a 20-mile stretch. So to find the leak, IFT was called to perform FreezePlugs to determine the location of this leak. Kind of like finding a needle in a haystack when the pipe is buried.
The line was filled with water and pressurized to 2100 psi. The FreezePlug was installed at the 10-mile mark. After the FreezePlug was established a noticeable drop in pressure was observed which told us which way to freeze next. The FreezePlug was thawed and IFT moved downstream and froze another location telling which direction the leak was.
After a number of FreezePlugs, it was determined that the pinhole leak was in a 300' stretch so the pipe was stripped of dirt exposing the leak.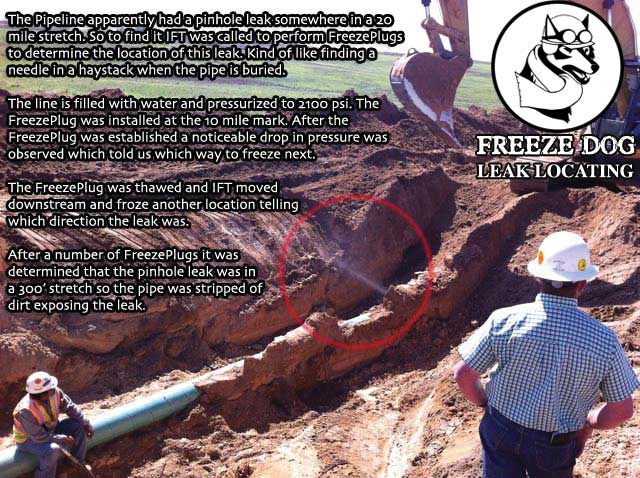 Need a pipe freeze? Feel free to call our closest location


Los Angeles, CA: Corp. 800-221-3332
San Jose, CA: 800-545-1185
Nashville, TN: 615-507-4884



Baltimore, MD - Mustang, OK: 281-546-7681
Houston , TX: 832-554-7811
Temecula, CA: 951-926-4849


This allowed for valve change out.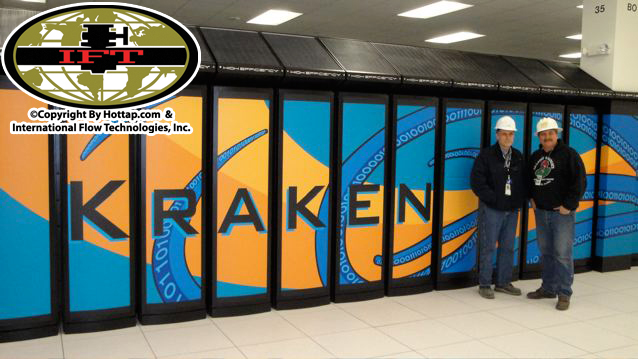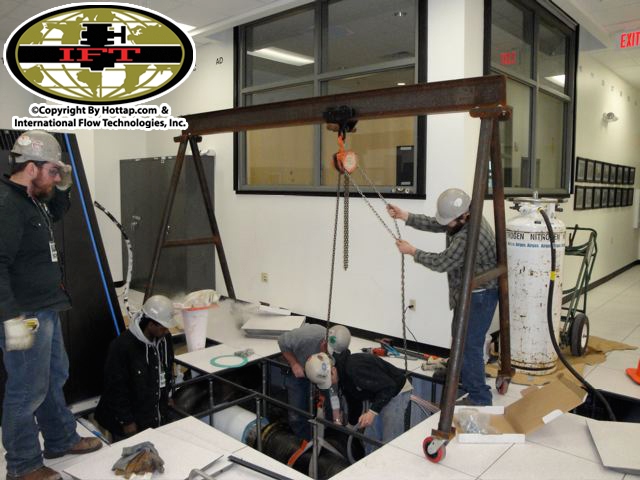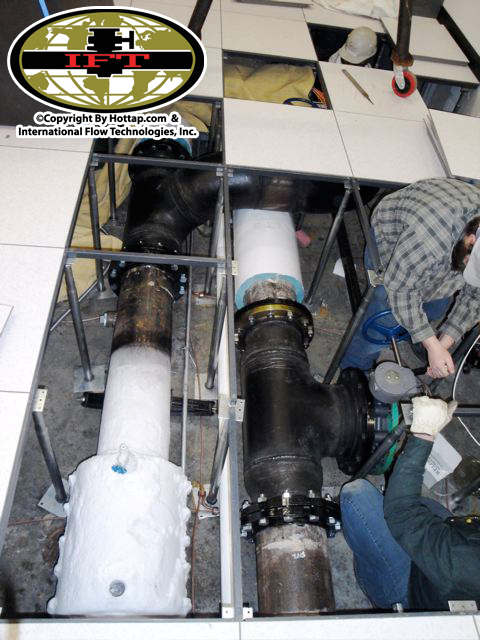 INTERNATIONAL FLOW SERVICE FREEZE PLUGS ARE CONSTANTLY MONITORED AND ARE DESIGNED TO WITHSTAND UP TO 3,000 PSI LINE PRESSURE. INDEPENDENT LABORATORY TESTS HAVE DOCUMENTED THAT NO PHYSICAL CHANGE IN THE STRUCTURAL MATRIX OF THE PIPE OCCURS DUE TO THE CONTROLLED FREEZING PROCESS.
Pipe freezing can be performed on a variety of pipes, including:

Titanium
1/2" to 36" (13mm to 914.4mm) OD
CoCast & Ductile Ironated & Lined Pipe
Vertical, Horizontal, Inclined
Out of Round Carbon Steel
Stainless Steel
Aluminum
Lead
Copper
Brass
Cast Iron
Fiberglass
Transite
Internally / Externally Coated
Cement Lined / CMLC





Pipe freezing can be performed in most locations, including:

Malls & Shopping Centers
Fossil Fuel Power Plants
Nuclear Power Plants
Hotels & Apartment Complexes
Paper Mills
Hospital & Institutions
Industrial & Commercial Production Facilities
Telecommunications Industry
Water & Sewage Treatment
Office Buildings
Fire Protection Systems
Refineries
Schools
Chemical & Petrochemical Plants
Commercial Buildings
Hotels
Breweries
Ships
Isolation for Hydrostatic Testing
Leak Locating
Isolation for repairs or modification