Hot Tap Services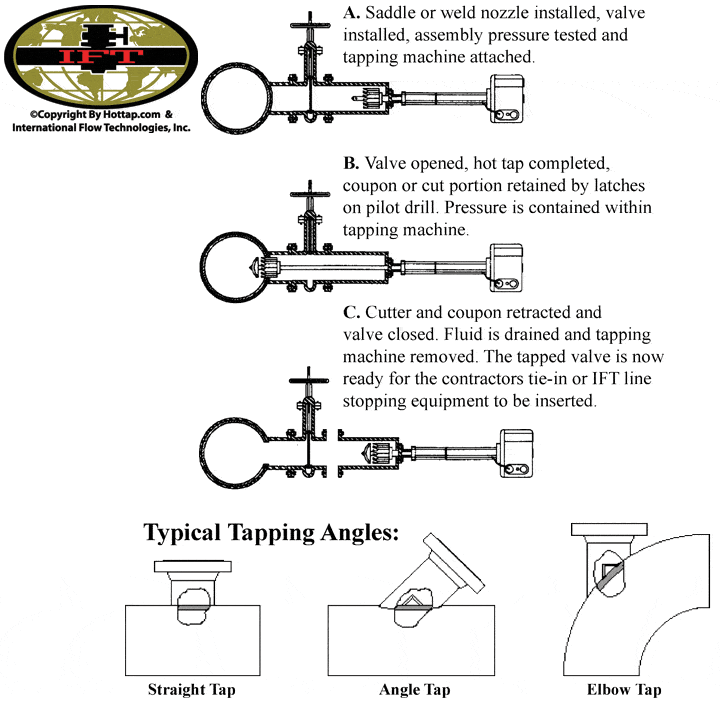 Hot Tap Procedures:
A. Hot Tap Saddle or weld nozzle installed, valve installed, assembly is pressure tested and hot tap machine attached.
B. Valve opened, hot tap completed, coupon or cut portion retained by latches on pilot drill. Pressure is contained within the hot tapping machine.
C. Cutter and coupon retracted and valve closed. Fluid is drained and hot tapping machine is removed. The tapped valve is now ready for the contractor's tie-in or IFT's linestop/stopple equipment to be inserted.
Typical Pipeline Hot Tap Angles:
Straight Tap, Angle Tap and Elbow Tap
Adding new connections or tie-ins
Adding branch connections to existing pipelines without interrupting service is our specialty. Capabilities: 1/2" - 96" on water, gas, steam, air, and chemicals. Available for any type of pipe, with complete turn-key service available. IFT specializes in large diameter pipeline connections.

Hot tap, wet tap, pressure tapping, hot tapping, line tap are various words used to describe our services and methods of making a connection, tying into, existing pipe or vessels without interrupting the system. Pipeline hot taps are also the first procedure in lines stops/stopples, where the hole saw is used to make an opening in the pipe, so a line linestop/stopple can be inserted. IFT's hot tap services include tapping 1/2" to 96" on natural gas, water, sewage, steam, petroleum products, chemicals, walls, tanks, vessels and providing long lasting branch connections.

To get a service quote, call IFT at 1-800-221-3332 or use our free hottap quote form.
The slideshow displays images of a first of its kind, a 102" x 42" hottap, without leaving a permanent valve. Once the hot tap was made the Dylan Swedge Valve™ was closed. Our Swedge Valve tie in was in place for 4 months until the pipeline was completed. Lastly, the Dylan Bonnet and Gate were removed leaving a butterfly valve approximately one mile downstream from the connection. The slideshow also highlights other large successful we have completed in the past.